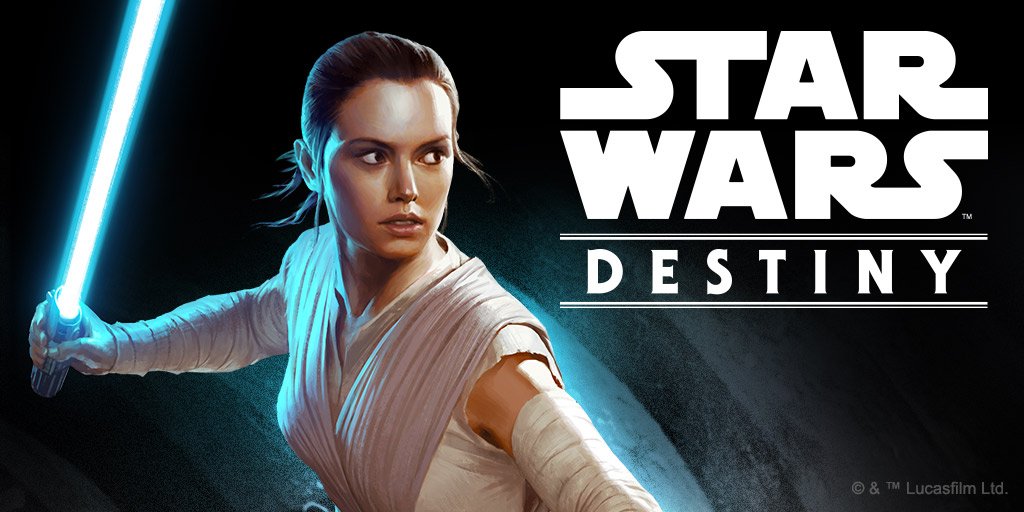 Unless you've been living under a rock for the last couple of years, you know that the Star Wars franchise has been rejuvenated with the addition of new stories in the form of a new trilogy and plenty of spin-off movies in the works over the course of the next several years. Of course, this means that now is the perfect time to cash in on the series' newfound popularity (not that Star Wars has ever not been popular, mind you). That means new merchandise—and lots of it. There are new tee-shirts, posters, toys, LEGO sets, and, most importantly from our perspective, games. There of course have been new Star Wars themed Monopoly's and Life's and plenty of video games, but a game that we have seen become a huge hit in our café is Fantasy Flight Games' Star Wars Destiny.
Star Wars Destiny was first released not long after Thanksgiving and almost immediately we ran out of booster packs. There was a seemingly long period of time between that and our next shipment of booster packs in which many of our customers (and even some employees) waited in agony. We got frequent calls wondering if we'd finally gotten more boosters in and even some people wanting to reserve a whole box. We even investigated other gaming stores in the area, but it was the same story everywhere we went: sold out. Finally, just before Christmas, we got the shipment in and once again, the boosters were gone in a few days.
So what is this new game? Star Wars Destiny is a collectible card game similar to Magic: The Gathering in which you build a deck consisting of characters, weapons, vehicles, and abilities and use it to battle your opponent. In addition, there is a dice component to the game in the same vein of Dice Masters. Certain cards come with a die that you must use with the card in order to attack your opponent.
Why is this game so popular? Well, first of all, it's new. As with most "new" things, there is a bit of hype surrounding it. People are curious and gamers especially have a desire to check out the newest games. Secondly, as I've talked about before in regards to Dice Masters, people are attracted to collectible card games because of the excitement they feel from collecting new cards and building new decks. But perhaps most importantly, it is a new Star Wars game. Star Wars is one of the biggest, most beloved stories to ever grace the big screen. Players enjoy opening booster packs and looking for their favorite Star Wars characters to add to their teams. And, as with Dice Masters, trying out different combinations of characters is part of the fun. Do you want Darth Vader to team up with Kylo Ren against Han Solo and Boba Fett? Star Wars Destiny will let you do that.
Although this game has only been out for a little more than a month, it already seems to me that it is a big hit. Only time will tell if it continues to grow in popularity or eventually dies out. Plenty of other collectible card games have come out in the past, all trying to emulate the success of Magic: The Gathering. Few have succeeded, but it seems that, at least for now, Star Wars Destiny just might.